Parent Teacher Association
Emmbrook Junior and Infant schools have a combined PTA. This is an invaluable part of the school team as it successfully raises funds for additional little extras that enhance the children's lives in both schools.
Summer Fair 2023 – Thank You
A massive £6,448.88 was raised at the 2023 Summer Fair and through the auction and raffle ticket sales.
A huge, sincere thank you to all who played a part in its success, whether it was… baking a cake, donating a raffle prize, helping on a stall, having a go on the inflatables or games, having your face painted,  donating or winning a soft toy, buying a raffle ticket, buying a hot dog, cake or drink, performing, etc. etc….. it all added up to make the Summer Fair a great fun afternoon and immensely successful. 
We would also like to take the opportunity again to say an enormous thank you to all our sponsors.
Feedback
We'd really appreciate your feedback and any ideas you have for future summer events or other events throughout the year – so please can you take a few minutes to complete this survey form:
Please click on this link: https://forms.gle/jop6471TJ4WU9VCo7
All completed feedback forms received by Wednesday 19th July 2023 will be entered into a draw to win two free tickets to the next adult evening event in the winter term. If you do not wish to be entered into the draw, please advise us [email protected]
We would also like to take the opportunity again to say an enormous thank you to all our sponsors.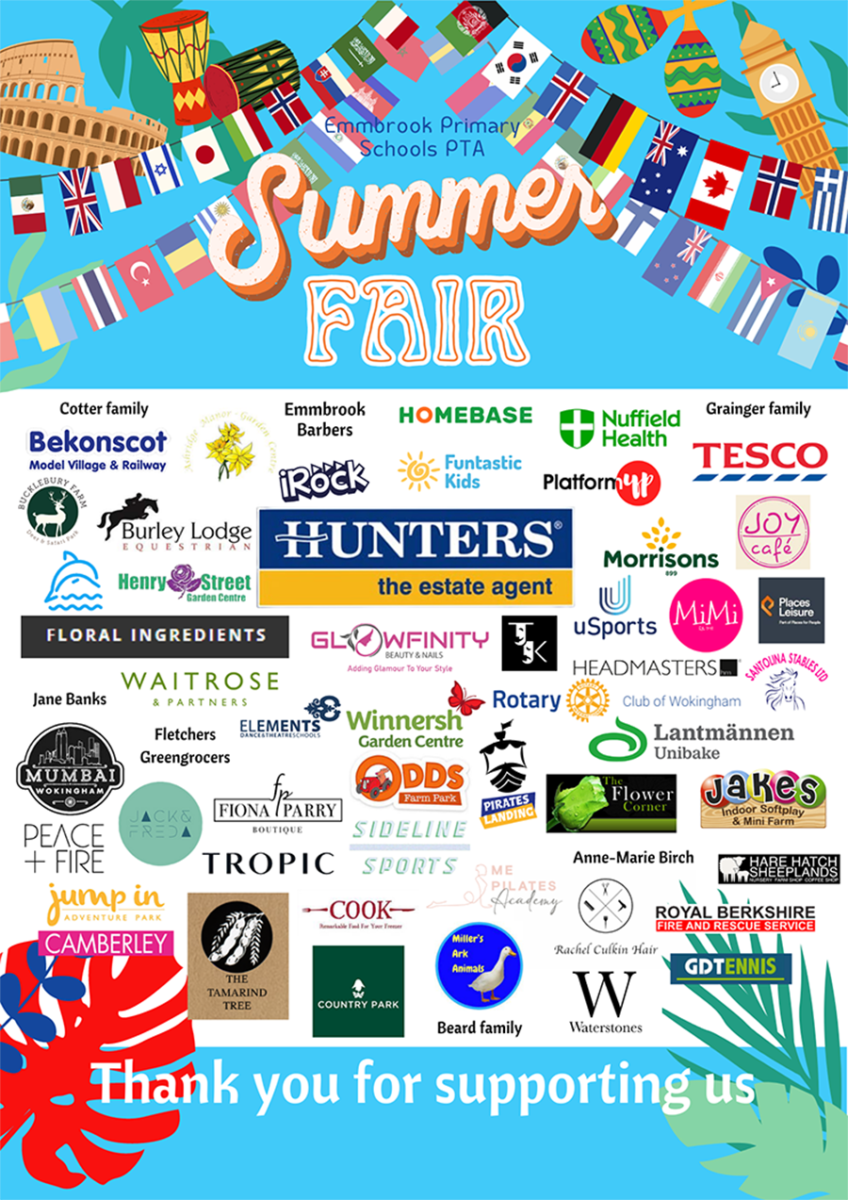 Thank you for all your generous donations, Bags2School raised a fantastic £303.50.
Thank you to Theoni Georgiou for organising this.
Ice creams and lollies will be available to buy for £1 every Friday at pick up from 3:15pm until the end of term.
Each week we will need 1 person to purchase and collect the pre-reserved stock from Morrisons Woosehill and 4 people to set up and sell the ice creams.
Please sign up to help here, thank you. 😎🍦
https://www.signupgenius.com/go/70A0848A5AD28A2FB6-friday1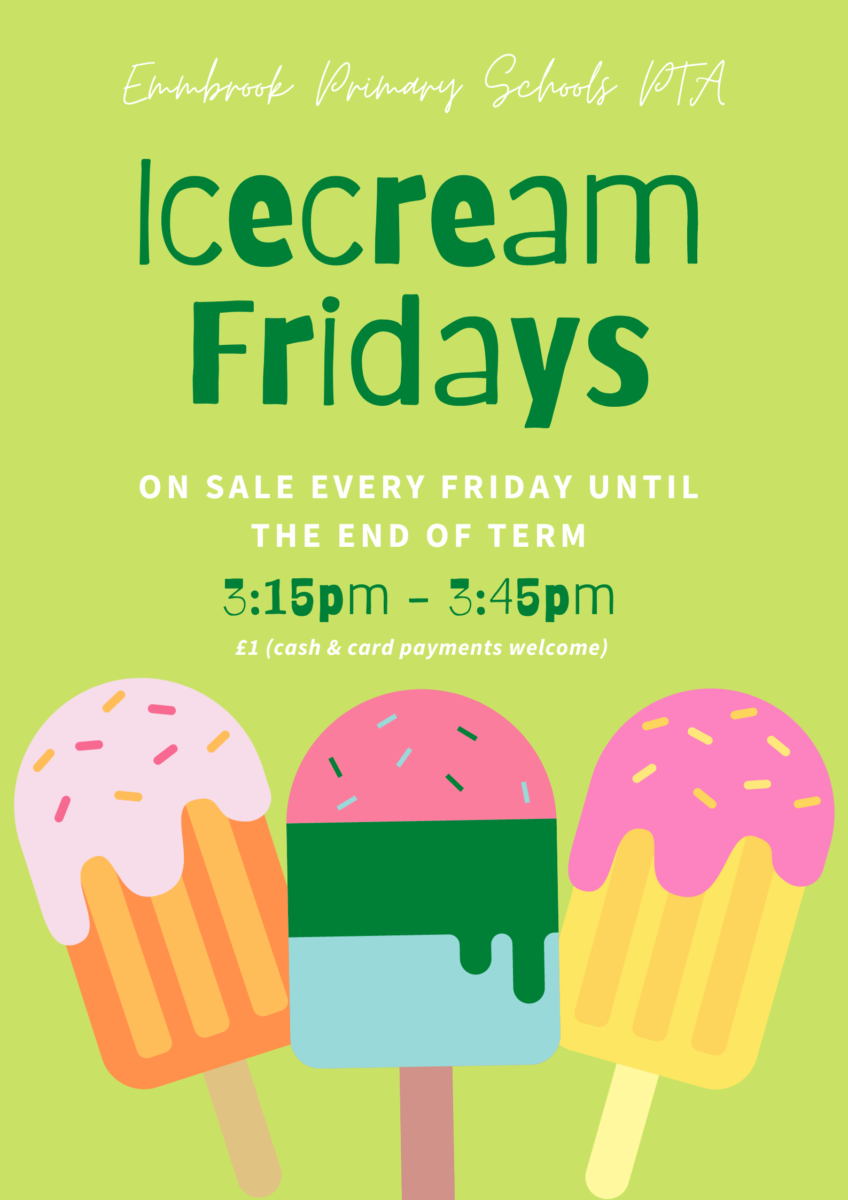 Place your bids by submitting:
Name, Phone number, Email address, Item bidding for, Your bid amount
There are 2 ways to submit your bid:
Post into the PTA letterbox by the Infants reception by 3.30 pm on Friday 23rd June.
Email your bid to

[email protected]

by 4pm on Sunday 25th June.
Minimum bid for all items, unless otherwise stated is £5.00
The theme for the fair this year is 'around the world' and we'd like to invite all Infant and Junior school children to get creative and enter this year's Summer Fair competition.
Children are invited to decorate a flag so it represents them. They might choose to include their hobbies / interests, culture / family heritage, favourite colours, animals etc… and can use paint, pens, pencils and other materials to create their design. It's totally up to them!
The children's flags will be hung in trees and on railings in school grounds for all to enjoy at the Summer Fair.
Our PTA hold a number of events throughout the school year to raise money for both schools. Our main events are the Christmas and Summer Fairs although other events such as quiz nights and 'pamper' evenings for the parents, and disco for the children are also part of the PTA calendar.
The money raised by the PTA has recently been spent on tyre park and fitness trail, digital cameras, basketball nets, football kit, stage lighting and Flip video recorders.
If you would like to get involved with the PTA, please contact the Chair by email [email protected]. The PTA welcome new members and look forward to hearing from you.
Co-Chairs – Caitlin Wales & Helen Venfield
Co-Vice Chairs – Christine Leddy & Emma Grainger
Co-Treasurers – Madhu Kalepu & Stephanie Wood
Secretary – Claire Lyne
and supported by lots of lovely friends of the PTA.
The next PTA meeting will take place on a date to be confirmed in the autumn term.
PTA Minutes
If you would like to get involved with the PTA, please contact the Chair by email [email protected] You can put in as much or as little time as you have, helping out on ad-hoc projects or taking on a specific role  – you'd be amazed at the hobbies and skills we can make use of! The PTA welcome all new members and look forward to hearing from you.
PTA Bank Account Details (BACS)
The PTA bank account details are: Sort Code 30-91-11 account no: 02180810, please ensure you include the correct reference when making payments, thank you.
PTA Class Representatives
A massive thank you to all those who have agreed to be PTA class representatives. We really appreciate your support. 
We are still on the lookout for willing volunteers especially from years 3 and 6.
The Class Representative will share updates and information about upcoming PTA events & initiatives with parents & carers in their child's class / year (via WhatsApp / Facebook etc…), and feedback thoughts & ideas to the committee. It won't take up much time at all. 
By bringing together a group of Class Reps (at least one Rep from each Class / Year group) we're hoping to streamline our communications to parents & carers, increase awareness of all the exciting PTA events & activities planned throughout the school year and welcome more friends to our PTA.
Below is the list of reps for each Juniors year group:
Year 3: Pam Peers
Year 4: Sean O'Grady, Sara Bradley, James Berkeley
Year 5: Claire Watson
Year 6: Sean Clarkson
If you're interested in being a representative for your child's class or you'd like any more information, we'd love to hear from you.
Please contact Gen Cotter: [email protected]
Race Night – Friday 10th March Evening
Book your babysitters and get ready to place your bets for a fun race night on Friday 10th March!
Hosted by Mr Fox in the Junior school hall, this night promises to be fun filled and competitive. There will be horse races to place bets on, a fantastic raffle (including tickets to Ascot and Windsor racecourse) and a reasonably priced bar. Please bring your own snacks.
Doors open 7:15pm, first race 7:45pm.
Tickets are £5 per head (includes first drink). Sign up for tickets here: Tickets 
The PTA will also be selling tickets by the school driveway on Friday 3rd March at drop off and pick up times.
We look forward to seeing you there.
Other events in the pipeline...
Bags2School – Friday 30 June and Friday 13 October 2023
Summer Fair – Saturday 10th June
Scholastic books – new dates to come
Would you like to join the PTA Social Craft group? You could make items such as scrunchies, hair clips, bunting, purses, memory bears  etc out of donated uniform, as well as seasonal items to sell at PTA events throughout the year. If you are interested or you have a friend, neighbour or relative who would love to be involved,  please contact Christine Leddy for further details – 07905 799185.
Uniform and Fancy Dress Collection Bins
Please can we ask for donations of pre loved school uniform, school related fancy dress, World Book Day costumes, Christmas jumpers and coloured t shirts for Sports Day, in good, clean, re-useable condition. The items that you kindly donate will help other school families and raise vital funds for our schools through the PTA second hand uniform sales. 
We have placed some labelled wheelie bins against the fence under the trees by the Infant School crossing and these will be the collection points for any items you wish to donate. 
For any families that require help to purchase uniform, please contact the appropriate school office with details & sizes of the items that you need and they will contact the PTA anonymously on your behalf.
We will be holding uniform sales each term, in the meantime please submit requests to purchase uniform to the PTA
World Book Day/Class Topic Fancy Dress Sale
Thank you to all those who donated costumes and purchased costumes and to Kate Benson and the selling volunteers. I am pleased to say we raised the great figure of £102, which will go back to the schools to fund important resources and experiences for our children.
Please add back in name labels, class reps, bank details and get involved as below