The Willows breakfast and after school club has suffered financially throughout the Covid lockdowns and school closures over the last 18 months.  Despite the efforts of many of our families who were able to keep their accounts in credit to help with our cash flow, the schools have sadly still accumulated a large amount of debt which needs to be recovered as soon as possible.
Due to the heavy workload involved in managing a breakfast and after school club in a separate building and ensuring it remains compliant and runs smoothly, Emmbrook Infant & Junior Schools have made the decision to outsource the provision to Funtastic Kids from 1st November 2021.
Funtastic Kids have been running our holiday camps for several years now, so we are confident that this transition will be as smooth as possible.  Louise Holloway, who runs Funtastic Kids, has provided information about their breakfast and after school clubs, which you will find attached.
All children who currently attend breakfast and after school club are guaranteed to keep their places in their current sessions with Funtastic Kids from 1st November.  Parents/carers whose children currently attend breakfast and after school club will be sent a separate email with details of how to register/book places with Funtastic Kids next week.
Thank you for your continued support.
Emmbrook Infant School and Emmbrook Junior School
Funtastic Kids - Wrap Around Care
Funtastic Kids is delighted to be providing high quality and dependable wrap around childcare for the families of Emmbrook Infant and Junior Schools!
We pride ourselves on having a vibrant approach to childcare and employ friendly and nurturing staff that are dedicated to promoting positive behaviour and helping children to grow in confidence.
See the leaflet below for more details about our Breakfast and After School Clubs.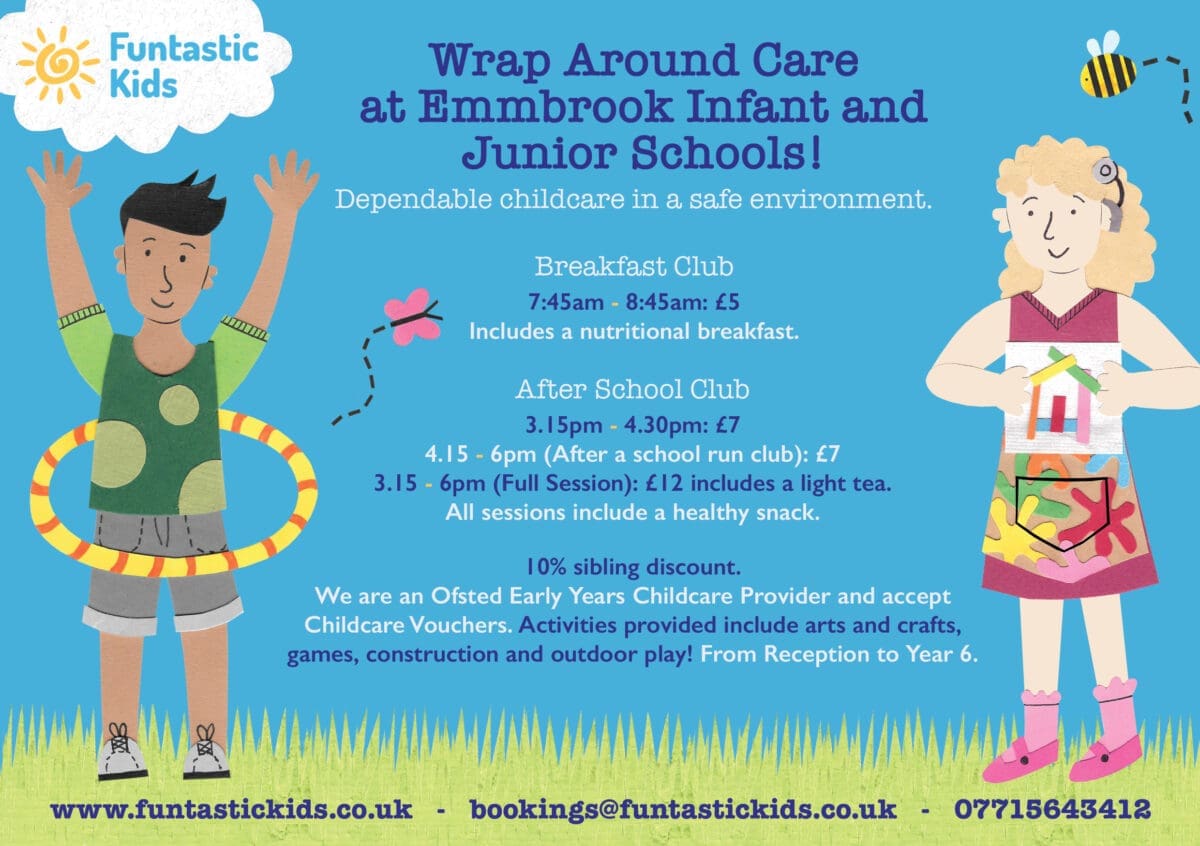 Both clubs are located at the Willows Bungalow on the school site.
Contracts and ad-hoc bookings are available. Ad hoc bookings are not guaranteed and are subject to spaces.
To book your child a session and to learn more about Funtastic Kids visit: https://funtastickids.co.uk/clubs/emmbrook-infant-and-junior-schools/
To contact us directly please email [email protected] or phone 07715643412.
Follow us on social media to keep up to date with our news and for monthly updates of all the fun we have at our clubs:
Holiday Childcare
Funtastic Kids also offer Holiday Camps at Emmbrook Infant School!
Children at both the Infant School and the Junior School are welcome to attend, as well as children from other schools in the local area.
All of our Holiday Camps offer 2 fun packed timetables; one with themed creative activities, the other with a variety of exciting sports.
Selected locations will enjoy workshops with special visitors such as Rock Steady Music School and Berkshire Birds of Prey at no extra cost.
10% sibling discount.
Short and extended day options are available.
New for 2021, all children booked on our extended day option (8am-6pm) will be offered a nutritional breakfast and light afternoon tea at no extra cost.
To learn more about our upcoming holiday camps, visit: https://funtastickids.co.uk/holiday-camps/